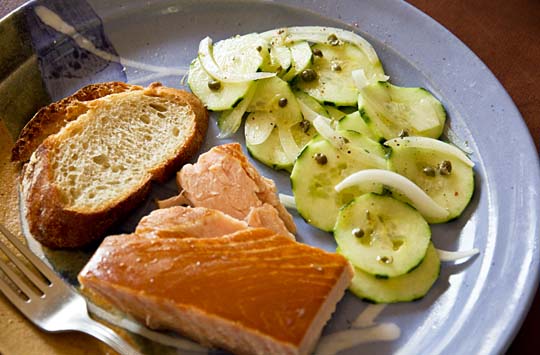 Due to a kitchen remodel I'll be without a kitchen for a few weeks, so I've asked some friends to keep my virtual kitchen going with some of their fabulous recipes.  My first friend is Su Anne, a very special person in my life. Su Anne and I met in college back in the 70's and she is one of those friends that you have for a lifetime.
Shortly after Bobby and I moved to New Mexico, Su Anne moved to NM, a different town, but only an hour away.  She met a wonderful man, married, and settled down – sort of. 🙂  Every time we get together, we talk food, cook food, and eat food; therefore, the perfect friend to get this series started.

The meal that Su Anne is sharing with you today is one that she made for Bobby and me several years ago and that we've enjoyed many times since.  Thank you Su Anne for sharing this meal here in my kitchen!  It's all yours Babe!
Su Anne:
Many years ago a friend came to poker night with a side of smoked salmon, some cucumbers and a baguette. He and I played in the kitchen while the rest of the gang were playing cards. We have toasted his inspiration many, many times. Cool, quick, ridiculously easy and delicious, this is one of our favorite summer meals.
[print_this]
Cucumber & Onion Salad with Smoked Salmon
Dinner for 2 or appetizers for 4.
Prep time:  15 – 20 minutes
No cooking required
Ingredients
6 ounces hot-smoked salmon. See Kitchen Notes
1 large or 2 small cucumbers, peeled and thinly sliced.
½ medium sweet onion sliced pole to pole in 1/8th inch strips.
½ tsp. Dijon mustard
1 tbsp. white wine vinegar
2 tbsp. extra virgin olive oil
1 tbsp. capers, drained and chopped
Salt to taste
¼ tsp. freshly ground pepper
1 loaf crusty European style bread, thinly sliced
Instructions
Remove salmon from package to a serving plate and allow to soak up any juices while you make the salad.
Lightly mix the mustard, vinegar, oil, capers, salt and pepper in a medium bowl. Add the cucumbers and onions and toss to thoroughly coat.
Serve with salmon and a loaf of crusty bread. Any leftover Cucumber & Onion Salad will keep overnight refrigerated.
[/print_this]

Kitchen Notes
Smoked Salmon – We love smoked salmon and always have several packages of the "hot smoked" or "Kippered style" on hand. Though relatively expensive, it's delicious, healthy, easy to crumble in salads, chowders and pasta dishes. It stores on the pantry shelf and is always in our food stash for camping and road trips. We buy hot-smoked salmon (sockeye is our favorite) that is cooked over alder wood in the Pacific NW. This is not the nova style that is cured rather than cooked.
Cucumbers – If the cucumber seeds are large and tough, split the cucumber lengthwise and scrape the seeds out with a spoon before slicing. I always remove the stem end down to where the seeds begin because it can be bitter.
Sweet Onions – The sweetest onions are really flat, not round, no matter what color or variety. Even a Vidalia, Maui or other supposedly sweet onion can be very pungent. Look for flat, disk shaped onions to use in salads and sandwiches. If sweet onions aren't available, use 4 or 5 medium green onions sliced lengthwise and then cut in 1" pieces.
Optional Herbs – A bit of fresh or dried dill works nicely with the cucumbers. 1-2 teaspoons of basil pesto in the dressing is also lovely.
Green Salad Variation – Instructions for a big tossed green salad with salmon and cucumber:
Two hard boiled eggs, sliced and sprinkled with salt and pepper.
Increase the dressing by 50% (no additional capers)
Toss 4-6 cups of torn salad greens with the dressed cucumbers and onions.
Divide the salad between two plates.
Garnish each plate with a few slices of boiled egg.
Top the salad with crumbled smoked salmon.
Serve with crusty bread or garlic croutons
Garlic Anyone? – MJ's mellow roasted garlic smears really nicely on the crusty bread and complements the salmon and cucumbers. Mash up the garlic cloves a bit to make it easier to spread. Or use MJ's garlic oil to make a quick batch of croutons from some great bread (sourdough is yum). Warning!  Hot and crunchy on the outside, chewy on the inside – garlic infused croutons are addictive!
MJ:
Thank you so much Su Anne for sharing this wonderful meal and throwing in the Green Salad variation.  We made the green salad last night and it was delicious!  Loved taking a bite of smoked salmon with a slice of boiled egg.
Enjoy!
This Cucumber and Onion Salad with Smoked Salmon has been shared with the following blog hop.  Be sure to click on the link for more exciting recipes!
Mix It Up Monday!, Frugal Food Thursday,   Gallery of Favorites