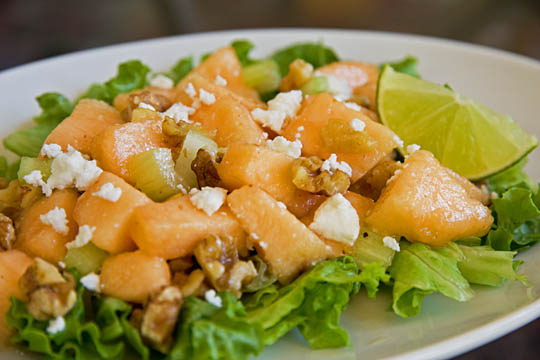 It was not until I became an adult that I would consider ever making a cantaloupe walnut salad must less eating one.  As a kid, I really disliked cantaloupe, I mean really, really disliked cantaloupe.  I couldn't even stand the smell of it.  Now I love it!  When cantaloupes start showing up at the market, I start buying and continue to buy until they disappear.
My favorite way to eat a cantaloupe or any melon is to just cut it in half, scoop out the seeds, sprinkle with a touch of salt and dig in.  However, with as much cantaloupe as we eat, I do need to change it up every once in a while.  This simple cantaloupe walnut salad is one of our regulars.  The sweetness of the cantaloupe, the tartness of the lime dressing and saltiness of the feta join together for a very refreshing salad.  It takes less than 15 minutes to throw together and 5 minutes to eat!
[print_this]
Cantaloupe Walnut Salad with Honey Lime Dressing Recipe
Recipe Author:  MJ of MJ's Kitchen
Serves: 2
Prep time: 15 minutes
Ingredients
1/2 cold cantaloupe, cut into bite size pieces
1 stalk celery, sliced
2 Tbsp. walnuts, chopped and toasted
2 cups lettuces leave, torn into bite size pieces
¼ cup feta cheese, crumbled
A touch of sea salt
Fresh cracked pepper (optional)
Dressing
Juice of ½ lime (about 1 Tbsp.)
1 ½ tsp. to 2 tsp. honey (depending on the sweetness of the cantaloupe)
1/8 tsp. garlic paste or 1 small garlic clove, minced
2 – 3 Tbsp. canola oil
Instructions
Whisk together all the ingredients for the dressing. (I start with 2 Tbsp. oil, then taste and adjust for the desired acidity.)  Set aside.
Toast the chopped walnuts in a hot skillet on the stovetop by spreading into one layer, shaking and flipping often until toasted.
Between 2 plates, divide the lettuce, then cantaloupe, celery, walnuts and feta.
Drizzle each salad with some of the dressing.
Top each salad with a touch of sea salt and cracked pepper if desired.
[/print_this]
Kitchen Notes
Before making this cantaloupe walnut salad be sure your ingredients are cold.  If your cantaloupe is not cold, then you should chill this salad for a couple of hours before serving.
Sometimes I'm in the mood for pepper and sometimes I'm not.  That's why it's optional.  The salad is good with or without it.
Enjoy!
If you like this Cantaloupe Walnut salad, you might also like my Chicken and Cantaloupe Salad.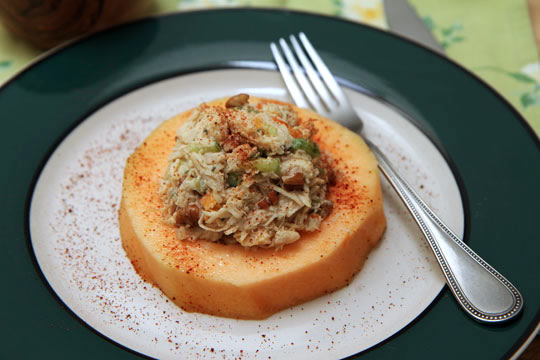 This Cantaloupe Walnut Salad has been entered into the following blog hops.  Be sure to click on the links to see more exciting recipes.
Summer Salad Sunday, Recipe Sharing Monday, Bizzy's Recipe Box, Slightly Indulgent Tuesday, Fat Tuesday, Freaky Fridays, Mouthwatering Monday, Mom's Test Meal Monday, Totally Tasty Tuesday, Full Plate Thursday, My Meatless Monday, Made With Love Monday, Gluten-Free Friday, Katherine Martinelli's Honey Hop, Food on Friday .
This salad was featured in the Hearth and Soul Blog Hop.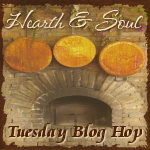 This Cantaloupe Walnut Salad was also feature at My Sweet and Savory's blog hop:  My Meatless Monday.