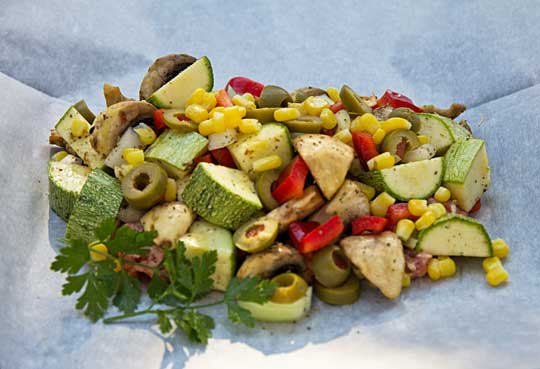 June was extremely hot here.  In fact, it went on record as being the second hottest June ever for my fair city.  In an effort to keep the heat out of the kitchen, we've been grilling and making lots of salads. Like every summer, we try something new on the grill to expand our grilling repertoire. This summer it was Cooking en Papillote (pah-pee-YOHT) or cooking in parchment.  Our first dish was this Italian Sausage with Vegetables.
This sausage with vegetables dish is a combination of Italian sausage, vegetables and herbs sealed in parchment paper then cooked on a medium heat grill. The parchment pouches are placed on a sheet pan, then set on the grate. (See picture below.) The sausage and vegetables steam in their own juices and the flavors are incredible. What a perfect one pot meal!  I couldn't believe how easy it was to prepare and even easier to cleanup afterwards. The cleanup was "discard the parchment paper" and wash the knives.
[print_this]
Italian Sausage with Vegetables 'En Papillote Recipe
Recipe Author:  MJ of MJ's Kitchen
Serves: 2
Prep and Cook time: 45 minutes (60 minutes if you serve it over the Wild/Brown Rice below)
Ingredients
 ½ large sweet pepper, chopped
½ small onion, chopped
5 garlic cloves, coarsely chopped
6 large white mushrooms, halved, then cut each half into 3 to 4 wedges
1 medium summer squash, cut into bite size pieces
½ tsp. dried oregano
½ tsp. dried sage
Olive oil (garlic-infused if you have it)
Salt and pepper
2 Italian sausages, remove from casings and torn into pieces (or 1/2 pound bulk Italian sausage)
8 large green olives, sliced
½ cup corn
1 Tbsp. butter
Instructions
Prepare grill for medium heat. (We use a gas grill so we preheat for about 10 minutes.)
Place the first 6 ingredients into a large bowl. Sprinkle with salt and pepper. Drizzle with a little olive oil and toss to coat.
Cut two large sheets of parchment paper into a heart shape by folding each in half and cutting the shape of half a heart.
Place one sheet on a large sheet pan, opened.
On half of the paper create a bed with the meat from one of the sausages. Top with half of the vegetables, half the olive slices, and half the corn.
Cut ½ Tbsp. butter into 3 pieces and place on top.
Fold the top half of the parchment over the sausage and vegetables. Fold the edges to create a pouch. Try not to leave opening in the folds where steam can escape. (I need to get a lot better at this.)
Repeat with the second sheet of parchment and other half of the ingredients.
Place the sheet pan with the two pouches on the grill. Close grill. 
Maintain grill temperature between 350° F and 400° F. Cook for 30 minutes. (If your grill has a hotter "side", then rotate pan halfway through.)
Remove from grill.
Serve over a blend of wild and brown rice (recipe below).

[print_this]
Two Methods for Cooking Wild/Brown Rice Mix
Method 1:
Serves: 4
Prep and cook time: 60 minutes
Ingredients
1 cup chicken or vegetable stock
3/4 cup water
1 cup wild/brown rice blend
Salt and pepper
Instructions
Bring stock and water to a boil.
Add the rice. Sprinkle with a touch of salt and pepper, then cover.
Simmer on low for 45 minutes or until done.
Method 2:  This method takes 15 minutes off the cook time.
[/print_this]
Kitchen Notes
The sausage – I used a mild Italian sausage for this dish, but a spicier one like Mexican chorizo is just as delicious.  It's important to put the sausage on the bottom. Being closest to the heat it becomes crispy and almost caramelizes.  The sweet crispiness and the flavor of the sausage was one of the things that really made this dish as good as it was.
The vegetables – I'm sure there are many different vegetables that would work.   I used what was in the refrigerator at the time and it was such a great combination that I used the same vegetables again when I made it the second time.  The only change was the squash.  The first go around I used yellow summer squash and for the second go around, Mexican squash.
Cut the vegetable in varying sizes based on how fast or slow they cook.  The squash pieces are relatively big in order to keep them from overcooking and getting mushy. Since I love to bite into a cooked mushroom, I left them pretty big as well.  Onion and bell pepper are smaller and the olives work nicely as thin slices so they can distribute throughout the meal once cooked and transferred to a plate.
The rice – I buy this wild/brown rice blend in bulk at my local co-op and I love it. It consists of several varieties of black and brown rice and it makes a great complement to this sausage and veggies dish; however, brown rice or white rice would probably work just as well.  You could also make your own blend by combining 4 to 6 wild and brown rice varieties.
The cooking in parchment method – I can't believe I've never cooked in parchment before!  It was SO easy! Yes, I need some work on my folded edges, but they were good enough. Even though I cooked this on the grill, it could easily be baked in the oven @ about 375° F (190° C).  I'm not sure if it would  caramelize the sausage, but I'll give it a go this fall.
If you enjoyed this sausage with vegetables dish, here is a vegetarian 'en papillote dish you might enjoy:  Stacked Vegetables en Papillote
A few more summer squash recipes for you to try:
Yellow Squash with Basil and Pine Nuts
Calabacitas (Summer Squash, Corn, and Green Chile)
This recipe for Sausage and Vegetables en papillote was featured in the Huffington Post article: Dinner in A Bag: 14 Recipes for Cooking in Parchment, April 5, 2013.