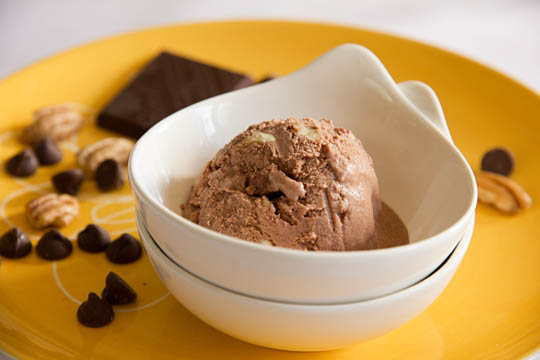 Do you remember my Salted Pecan Bark from a few weeks ago?  It was SO good, but even I can get too much of a good thing.  So to change things up a bit, I converted the bark recipe into an ice cream recipe.  Oh my!  Another big mistake!  Bobby kept telling me that I had to make one more batch before he was sure that the recipe was perfect. 🙂  As a result I've made four batches of this ice cream in the past 2 weeks!  He finished off the fourth batch last night and asked "More please?".
[print_this]
Salted Pecan Chocolate Ice Cream Recipe
Recipe Author:  MJ of MJ's Kitchen
Yields: 3 plus cups
Prep and cook time: 20 minutes plus chill overnight, then the time to make it in the ice cream maker
Ingredients
1.5 to 2 ounces dark chocolate (80% cocoa)
Heaping ½ cup semi-sweet chocolate morsels
¼ cup maple syrup
1 cup milk (2% or whole milk)
1 cup heavy cream
½ cup chopped pecans
¼ tsp. plus a pinch sea salt
Instructions
Add the chocolate and maple syrup to a pan over a pot of boiling water (a double boiler).
As the chocolate melts, stir to combine the syrup and chocolate. Keep stirring until all of the chocolate has melted and the mixture is smooth.
Slowly add the cream, stirring and combining with the chocolate as you go. Add the milk and stir.
Once all of these ingredients are well combined, stir in the pecans and sea salt.
Let cool, then place in the refrigerator overnight.
Freeze in ice cream maker the next day.
You can also make the ice cream in the morning, then churn it that night. Since my ice cream maker is ancient, it works best if both the blue ice insert and the ice cream mixture is frozen and chilled overnight, respectively.
Churn and Enjoy!
[/print_this]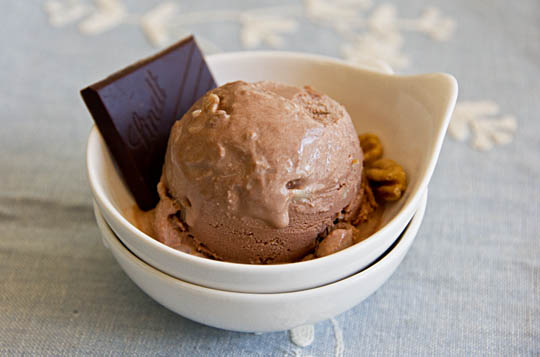 Kitchen Notes
Let's talk about those four batches.
Batch 1 – This first batch was absolutely delicious BUT…one serving provided my calorie and salt intake for the week.  A friend who was visiting at the time described it as a frozen chocolate mousse – extremely creamy and rich, but a little too salty. Here's the recipe:  1 cup milk chocolate morsels, 2 ounces of dark chocolate, 1/4 cup maple syrup, 1 cup heavy whipping cream, 1 cup half and half, 1/4 cup pecans, 1/2 tsp. sea salt.  So if you want an ice cream that is very rich and creamy and you can handle the calories, this is it. Just be sure to decrease the salt.
Batch 2 – Went in the opposite direction and exchanged out the half and half with 1% milk, decreased the morsels to 1/2 cup and the salt to 1/4 tsp.  Better, but a little TOO far in the opposite direction.
Batch 3 – Changed the milk chocolate morsels to semi-sweet and used 2% milk.  Perfect!
Batch 4 – Same as batch 3.  Perfect!
Eggs – This doesn't have any eggs so can it really be called ice cream?  I'm not sure, but whatever it's called, it's still good!
Microwave or double broiler – According to a comment from the Salted Pecan Bark post, a microwave works just as good as a double broiler to melt the chocolate.  I'm sure it would work for this recipe as well.
If you like this ice cream, then you'll also like these tasty treats.
I've added this Salted Pecan Chocolate ice cream to the following blog hops.  Be sure to click on the links for more delicious recipes!
Ice Cream Blog Hop, Gallery of Favorites, Mix It Up Monday!, My Meatless Mondays, Slightly Indulgent Tuesday, Hearth and Soul, Bizzy's Recipe Box, Whole Food Wednesdays, Michelle's Creative Thursday, Ice Cream Week Lindy Party, What's Cooking Wednesday?, Melt In Your Mouth Monday, Made With Love Mondays .
This ice cream was feature at the Hearth and Soul Blog Hop in July 2012.