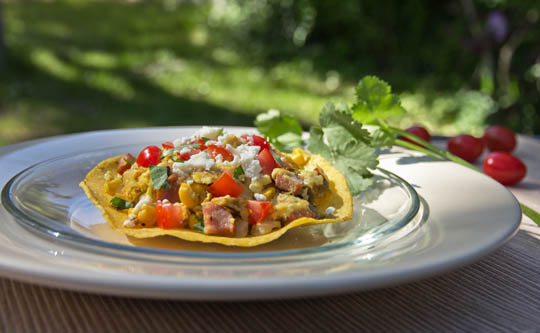 When I was a kid my family went to El Chico's on Wednesday night for the 99 cents special – a plate with an enchilada, tamale, beans and rice, and then all of the chips and salsa and warm corn tortillas one could eat.  A family of 7 ate for less than $10!!!!  Can you imagine?  Through this experience I grew up thinking that this Wednesday night special was real Mexican cuisine.

"Mexican food" at home was when my dad served one of his favorite foods – canned tamales!!!!  Believe it or not, I actually liked them, but then I had never tasted a real tamale. Now that I live in the southwest I know what real Mexican food is and, that there is a difference between Mexican, TexMex and New Mexican cuisine.  The locally made tamales are NOTHING like those canned tamales, and I now know that Mexican food is more than just cheese, refried beans and a tomato based red sauce – A LOT more!
Today, I'm going to talk a little about the tostada.  Very simply, a tostada is a meal on top of a fried corn tortilla. That "meal" can be just about anything from beans (my favorite) to roasted veggies or ground beef to shrimp.  In this kitchen, what goes into the "meal" usually depends on what I have in the fridge.  Since I cook a pot of beans almost every week, we do eat a lot of bean tostadas with a variety of toppings.  This Breakfast Tostada evolved one Sunday morning when I was emptying the fridge of all those little things that needed to be used.  The combination of the ingredients I had on hand resulted in a tostada that was quite different than any other I had ever made, and it was delicious!  This tostada now have a place of honor on our list of "brunch" options right along side Huevos Rancheros.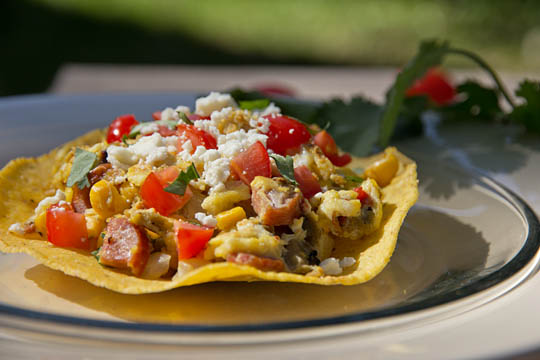 Sausage and Egg Tostada Recipe
Serves: 4
Prep and Cook time: 20 minutes
Ingredients
4 corn tortillas
1 cup canola or vegetable oil
1 tsp. oil
¼ cup onion, finely chopped
½ cup corn (frozen, fresh or canned)
1 Kielbasa sausage, sliced, then quartered
¼ to ½ cup roasted, peeled and chopped green chile
4 eggs, beaten
1 Tbsp. milk or cream
Salt and pepper
1 tbsp. cilantro, chopped
½ cup feta cheese crumbled
½ cup chopped tomato
Instructions
In a small skillet (a little wider than a corn tortilla), heat the canola oil over medium heat. Once hot enough, fry the tortillas, one at a time until crisp. Use tongs to hold the tortilla flat while frying, otherwise, it will curl up.  Transfer to a paper bag or paper towels to drain any excess oil.
In another skillet, heat a teaspoon of oil over medium low heat. Add the onion and corn. Cook, stirring until the onion is soft and corn is done, about 4 minutes.
Add the green chile and kielbasa. Cook stirring for 1 minute.
In a mixing bowl, gently beat the eggs with the milk, salt and pepper.
Pour the eggs into the skillet. Using a heatproof spatula, cook the eggs, gently stirring in the ingredients and folding the eggs until done.
Divide the egg and sausage mixture between the four tortillas. Top with cilantro, feta cheese and tomatoes.
Kitchen Notes
The sausage – The first couple of times I made this I used Kielbasa because I had a couple of sausages leftover from making Curry and Comfort's delicious Spicy Kielbasa, Tomato, and Chili Curry.  However, you could also use any smoked or spicy sausage such as Andouille or Spanish chorizo. If you use Mexican chorizo (which is fabulous!), add with the onion and corn, and cook until done.
The chile – Use whatever you have that's spicy. Here are some suggestions:
roasted, peeled, chopped green chile (this is what I use of course 🙂
jalapeno
chipotle adobo
roasted poblano
picante or pico de gallo (click here for recipes from Kitchen Riffs)
If you choose a sauce, use it as a topping once the egg mixture has been transferred to the tostada.  If you add sauce to the eggs when cooking, the eggs will be runny.
The cheese – Use feta if you can!  Otherwise, whatever you prefer.
Other ingredients – As with any tostada, avocado, lettuce or spinach, and bell pepper are always options as well as anything else you might have in the fridge that needs to be used.
Enjoy!
If you like this recipe, I bet you'll love this one as well!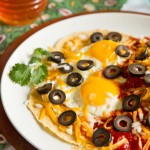 Huevos Rancheros – Eggs served on top of corn tortillas with black beans and red chile sauce.
This Breakfast Tostada recipe has been linked to the following blog hops.  Be sure to click on the links for more fabulous recipes.
Weekend Potluck, Mix It Up Monday, Breakfast Ideas Monday, Made From Scratch Monday, Fat Tuesday, Frugal Follies, Foodie Friday, Gluten-Free Wednesdays, Whole Foods Wednesday, Gluten-Free Fridays, Full Plate Thursday
This recipe was featured on Breakfast Ideas Monday!