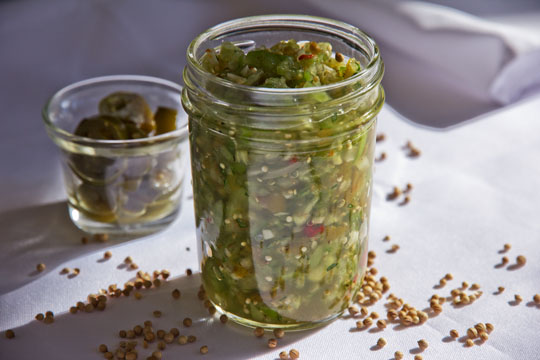 Just in case you are looking for a little different salsa or pico de gallo, here is a recipe for Tomatillo Salsa with New Mexico green chile.  The chile adds a different flavor than other chile peppers like jalapeno, and you still get the heat that you want in a salsa.  Of course, if you don't have any green chile, you can always substitute with another type of chile.  See the Kitchen Notes for some substitutions.
Like any salsa, you can use this Green Chile Tomatillo Salsa in a variety of ways – tostados, tacos, eggs, sandwiches, or with chips – just to name a few.  It goes great with my Chile Relleno Egg Sandwich.  Experiment and enjoy!

[print_this]
Green Chile Tomatillo Salsa Recipe
Recipe Author:  MJ of MJ's Kitchen
Yields a little over 2 cups
Prep time: 20 minutes
Ingredients
8 to 10 tomatillos*, remove husks and wash to remove sticky surface, coarsely chop (1.5 to 2 cups)
¼ cup onion, minced
1 garlic clove, minced (use a roasted garlic clove if you have it)
¼ to ½ cup diced roasted and peeled green chile*
1/8 tsp. ground coriander, toasted*
1/8 tsp. ground cumin, toasted*
1 tsp. vinegar
¼ tsp. salt
¼ tsp. sugar (only if salsa is a bit bitter)
*See Kitchen Notes
Instructions
Coarsely chop the tomatillo and transfer to a processor. Pulse until finely chopped. (Don't over do it or you'll end up with tomatillo soup.)
Transfer tomatillo to a colander and let drain while you prepare the rest of the ingredients.
Transfer all ingredients into a bowl and stir.
Use immediately or refrigerate until ready to use.  Keeps in the refrigerator for 5 to 7 days.
[/print_this]
Tomatillos are more common in Mexican cuisine, but through the years they have found their way into New Mexican cuisine – which is not surprising given our location.  Tomatillos and green chile make a mean green chile sauce which is perfect for people who want the flavor of the green chile but with less heat.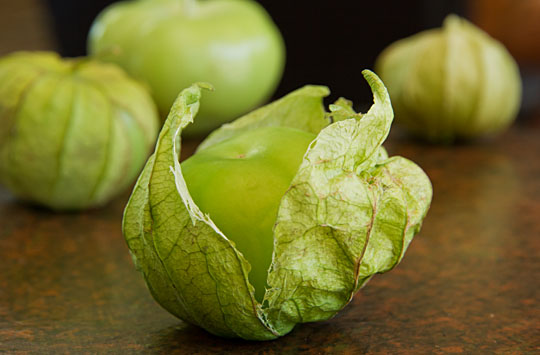 Kitchen Notes
The tomatillos – The greener smaller tomatillos are the best if you can find them.  They are more tart which we like.  For this recipe, avoid the lighter, yellowish fruit if you can.  They are riper  which yields a "softer" salsa as opposed to a crispy salsa.  The riper ones work great in a sauce, but not in this salsa.
Tomatillos have a sticky, waxy film on the surface, so when you wash them, you might have to scrub a little harder than most fruit to remove the film.
I don't roast the tomatillos because I love the tartness and texture of leaving them raw.  Because I use the chopped raw tomatillos, there isn't much liquid in this salsa; therefore, this could easily pass as a pico de gallo.
The green chile – I use anywhere from 1/4 cup to 1/2 cup chile, depending on how hot I want it and how hot the chile is. You can always substitute 1 to 2 tablespoons of fresh, minced jalapeno or pickled jalapeno as well as poblanos or your personal favorite green pepper.
The toasted cumin and coriander – Toast about 1/2 tsp. of each type of seed in a skillet, grind them together, then add 1/4 tsp. of the mix.  Use the remaining seasoning in another dish during the week. OR you could do what I do and make a big batch by making this Cumin Coriander Spice Mix.
Some of you may be asking "what is the red?" Roasted New Mexico green chile usually has a few roasted red chiles mixed in because not all of the red chile gets pulled before roasting.  So we get a mix with a  lot of green and a little red.  I love a little red because it makes things pretty and adds a little sweetness to the salsa.
If you like this Green Chile Tomatillo Salsa, then you'll also like these salsas and sauces.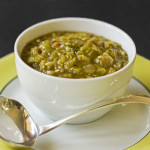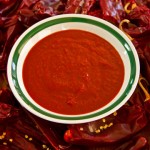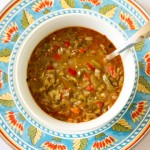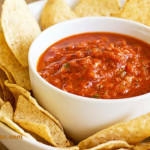 This Green chile Tomatillo Salsa recipe has been linked up to the following blog hops.  Be sure to click on the links for more fabulous recipes.
Freaky Friday, Weekend Potluck, Foodie Friday, Mix It Up Monday, Mouthwatering Monday, Hearth and Soul, Full Plate Thursday, It's a Piece of Cake, Made With Love Mondays, Whole Food Wednesday, Fat Tuesday, Bizzy's Recipe Box, What's Cooking Wednesday?, My Meatless Monday
This recipe was featured on Full Plate Thursday over at Miz Helen's Country Cottage.