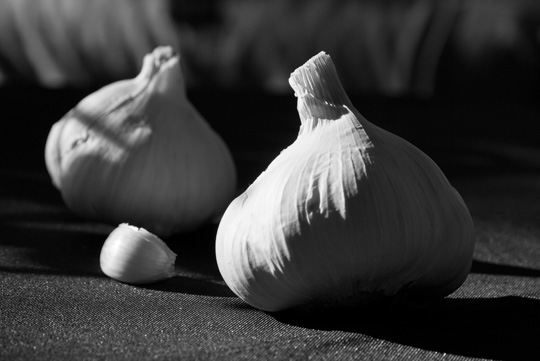 For anyone who has been following my blog for more than a day knows that I LOVE, I mean LOVE garlic! So in honor of this versatile and tasty bulb, I am dedicating this post to all foods garlic.  Through the last several months I have found others that celebrate garlic as much as I do, so I am sharing their love and my love with you through a variety of recipes, all of which use a respectable amount of garlic.  Cook and Enjoy!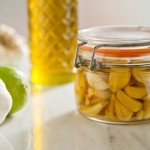 Roasted Garlic Infused Olive Oil @ MJ's Kitchen
Let's start with death by garlic. In one process you'll get a beautiful jar of roasted garlic to enjoy for several weeks, and a luscious bottle of garlic-infused olive oil. Once you try it, you'll never be able to live without it!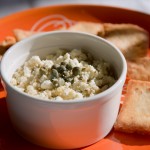 Feta and Roasted Garlic Dip @ MJ's Kitchen
Now that you have a nice jar of roasted garlic in the refrigerator, what are you going to do with it? Here's a very, very simple and explosive appetizer with feta cheese, capers and roasted garlic. It's been a hit every time I've served it!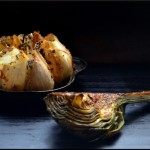 Tequila Lime Roasted Garlic and Chipotle Roasted Artichokes @ The Ardent Epicure
If you want to serve your guest or just yourself the most decadent garlic snack you could ever make, then you must try this! Imagine taking a bite of a crostini topped with garlic roasted with olive oil, lime, tequila, and smoked peppercorns, and artichoke roasted with chipotle. Are you weeping with joy?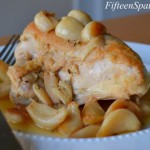 Chicken with 40 Cloves of Garlic @ Fifteen Spatulas
This first time I made this, I thought I had died and gone to heaven!  Granted it's not something to be served at a dinner party, but with a loved one that loves garlic as much as you – it's perfect!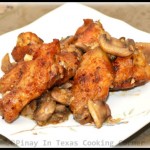 Garlic Chicken Wings and Button Mushrooms @ Pinay in Texas Cooking Corner
There are two foods that I feel were created to complement garlic – chicken and mushrooms! This recipe combines all three ingredients into one DElicious dish!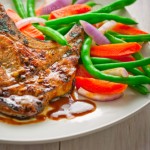 Sweet and Garlicky Pork Chops @ Wok with Ray
If you want to turn a simple pork chop into something that will knock your socks off, here's the recipe! A marinade with lots of garlic and ginger turns a simple grilled pork chop into a grilling contest winner!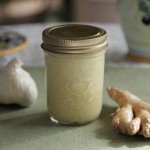 Garlic – Ginger Paste @ MJ's Kitchen
Do you cook a lot of dishes with both garlic and ginger root? If you do, then you can eliminate the chopping and mincing each time with this simple paste. It's quick and easy to make and lasts several weeks in the fridge.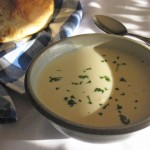 Garlic Soup @ MJ's Kitchen
What can I say? It's amazing what transforms when you cook two heads of garlic in a delicious broth with some fresh herbs.  Talk about a garlic lover's dream!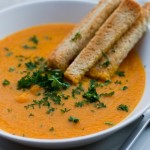 Roasted Carrot and Garlic Soup @ FiveEuroFood
If just garlic is too much for you, then this soup is perfect! When I made it I followed Charles' suggestion and roasted the onion along with the carrots and garlic.  The result was remarkable!  And no one can argue with the health benefits of this soup – carrots AND garlic!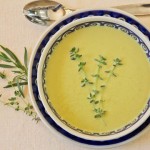 Cold Asparagus and Garlic Soup @ MJ's Kitchen
Here's another option for when just garlic is too much. One pound of asparagus with a head of garlic makes a uniquely delicious cold soup. So easy to make and perfect for a warm summer's night.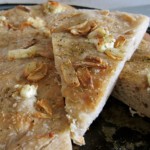 The Lazy Laowai's Guide to Toaster Oven Focaccia @ Wok With Me, Baby
If you really want to go into garlic overload, serve this garlic focaccia with one of the garlic soups. O.K. – that might even be too much for me.

  When I made this, I served it with a simple fresh vegetable salad and it was perfect! I did use feta instead of paneer because that's what I had. What a mouth full of flavor!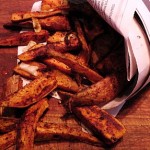 Sweet Potato Chili Fries with Roasted Garlic @ Inspired Edibles
O.K – so who doesn't like sweet potato fries?  Well, these are the ultimate sweet potato fries!  Three sweet potatoes roasted with a full head of chopped garlic – OH MY!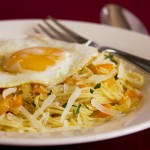 Capellini with Garlic, Lemon, and an Egg @ MJ's Kitchen
Bet you thought I was going to forget about the unbeatable combination of pasta and garlic. No way! Here is an easy dish that combines the flavors of pasta, garlic, and preserved lemons, then tops it all with a runny egg. Hum – sounds good for supper tonight!
Do you have a recipe that uses a respectable amount of garlic (@ least 8 cloves)?  If so, please feel free to describe the recipe below in a comment and provide a link. Garlic lovers are always on the hunt for more ideas.
More Garlic Recipes
Seared Garlic Chicken with Lemon and Olives @ Inspired Edibles (Kelly does it again!)
Focaccia with Caramelized Onions, Garlic and Cherry Tomatoes @ Katherine Martinelli's
This post has been shared with the following blog hops.  Be sure to click on the links for more exciting recipes.