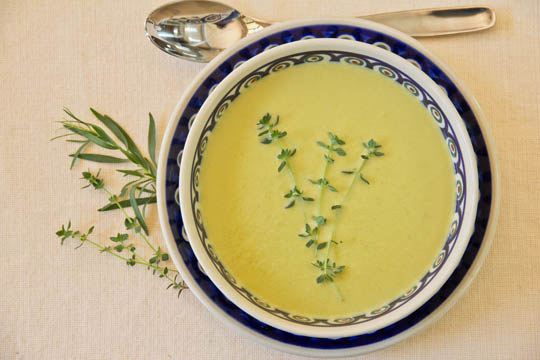 When the weather starts warming up, I switch from hot soups to cold soups because they make a refreshing summertime lunch. One of my favorite cold soups is this cold asparagus soup with lots of garlic. It's a great soup to make anytime, but is a tasty solution for the large asparagus spears you find late in the season.  Add a head of garlic and you have, not just a tasty soup, but an all around healthy soup.

This soup has everything I love about cold asparagus soup combined with my hot garlic soup.  It has the best of both.  We did find it is best "a little" cooler than room temperature rather than "'cold", right out of the refrigerator.  So, once it's been chilled, you just need to let it set for about 20 – 30 minutes at room temperature before serving.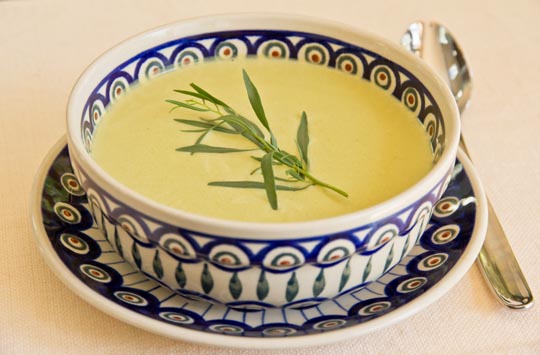 [print_this]
Cold Asparagus Soup with Garlic Recipe
Recipe Author:  MJ of MJ's Kitchen
Serves: 4
Prep and Cook time: 1 hour plus overnight
Ingredients
1 Tbsp. olive oil
1 cup onion, chopped
1 head garlic, cloves peeled and chopped
1 pound fresh asparagus, coarsely chopped
3 cups water
Juice from half of a large orange or ¼ cup orange juice
½ tsp. salt or to taste
generous amount of cracked white pepper
¼ cup half and half or milk substitute (makes it richer tasting but can be omitted)
Fresh herbs (lemon thyme or tarragon work best), chopped
Instructions
Heat oil in a large Dutch oven over medium low heat.  Add onion and garlic. Slowly sweat the onions until translucent, about 8 minutes.
Add asparagus. Increase heat to medium. Cook, stirring frequently, for 3 minutes.
Add water. Bring to boil over high heat. Reduce heat to a simmer and simmer for 10 minutes.
Remove from heat and let cool a bit.
Add the orange juice.
Using a blender or immersion blender, puree the soup.
Add the salt and pepper.
Stir in the cream.
Chill overnight.  Remove from the refrigerator about 20-30 minutes before serving.
Ladle into soup bowls. Top with chopped fresh herbs.
Serve with garlic bread, cheese toasts, crackers of choice or a grilled cheese sandwich.
This could also be served in cups as a starter to the meal.
[/print_this]
Kitchen Notes
The herbs – I purposely didn't add herbs to the soup because I wanted to top the soup with fresh herbs from the garden.  That was fun.  We had a taste test with mint, tarragon, lemon thyme, and oregano. The winner was lemon thyme followed closely by tarragon.
Lemon thyme and cilantro – I have several friends that don't eat cilantro because of that strange thing about cilantro tasting like soap. So I've been looking for a good substitute and I believe it might be lemon thyme.  I say that because I have substituted lemon thyme in a few recipes that call for cilantro.  In all cases, the lemon thyme was just as tasty.  Granted, it yielded a little different flavor but it worked with the ingredients. It gave the dishes a refreshing taste, which is what lemon thyme does for any dish.
If you have an herb garden I would suggest growing lemon thyme. It's easy to grow and grows fast.  It is a perennial and a lovely little plant.
If you enjoy cold soups, here are a few more for you to try:
Cold Curried Green Vegetable Soup
This Cold Asparagus Soup with Garlic recipe has been shared with the following blog hops.  Be sure to click on the links for more delicious recipes.
Sunday Night Soup Night, Made With Love Mondays, My Meatless Mondays, Just Another Meatless Monday, Mangia Mondays, Hearth and Soul Hop, Whole Foods Wednesday, Gluten-Free Wednesdays, Michelle's Creative Thursday, Freaky Friday, Gallery of Favorites, Just Another Meatless Monday, Whole Food Wednesdays, Full Plate Thursday, Kids in the Kitchen, Midnight Maniac Meatless Monday, Allergy-Free Wednesdays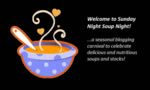 This soup was featured on Sunday Night Soup Night.