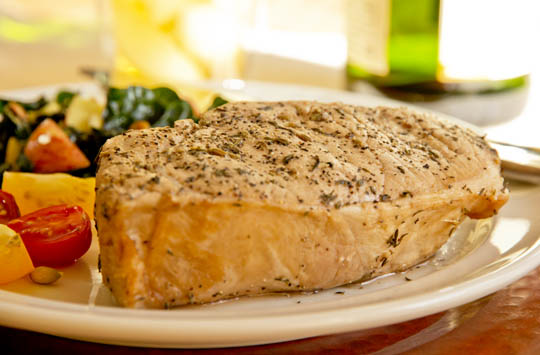 I guess you can tell by the picture that I'm not a vegetarian. 🙂  The other day I noticed that the Meat section of my Recipe Index was very short, so I decided it was time to post my Brined Pork Loin Chops recipe.  We love this recipe!  These pork loin chops are so easy to make and the flavor – well, you'll just have to make them for yourself, and believe me, you won't regret it!
I've always found pork to be the most difficult meat to cook perfectly. It's so easy to overcook. I think many of us were raised eating rubbery pork chops that had been cooked to death, so they had to be smothered in gravy to be palatable.  It has taken me a while, but I've finally learned how to cook the perfect, juicy pork chop. It's easy when you use a meat thermometer. Imagine that!
This pork loin chop recipe requires a 4 to 8 hours brine before baking, but putting the brine together only takes a few minutes (just be sure to save a cup of your morning coffee).   Brine the pork loin chops in the morning and when you get ready to start supper, it only takes 25 minutes for them to go from the oven to the table.
[print_this]
Baked Pork Loin Chops Recipe
Recipe Author:  MJ of MJ's Kitchen
Serves: 4
Prep: 5 minutes
Marinate: 4 hours to 8 hours
Cook and rest time: 25 minutes
Ingredients
4 thick pork loin chops
Brine
2 tsp. salt
1 tsp. pepper
1 tsp. fennel seeds
1 tsp. dried thyme
1 cup white wine or apple juice
1 cup brewed coffee (I use the leftover coffee from breakfast)
Instructions
You'll need a covered dish or ziplock bag large enough to hold all four chops with at least 2 cups of liquid.
Add all of the ingredients for the brine to a bowl or your marinating dish. Stir to dissolve the salt.
Transfer the brine to your marinating dish or ziplock. Add the pork chops and turn to coat.
Cover the dish or seal the bag and refrigerate for 4 to 8 hours. Halfway through the marinating time, turn the chops.
When ready to cook, line the drip pan of a broiler pan with aluminum foil if desired. (Makes it easier to clean.)
Remove the chops from the brine and place on the top rack of the boiler pan. Discard the brine.
Sprinkle both sides of the chops with pepper.
Position an oven rack about 8 inches below the broiler. Turn on the broiler.
Move the pork chops to the oven and broil about 2 minutes per side or until browned.
Move the pork chops to the middle of the oven and set the oven to bake @ 350° F (175° C) .
Cook the pork chops to an internal temperature of 145° F. (Use your oven's meat thermometer if you have one.) This takes 10 – 15 minutes depending on the thickness of the chops.
Remove the chops from the oven, cover with foil and let rest for 5 minutes.
[/print_this]
Kitchen Notes
This article came out in May 2011:  USDA Revises Recommended Cooking Temperature for All Whole Cuts of Meat, Including Pork, to 145 °F (63° C).  This was quite a change for pork and a very welcomed change.  Many of the baked pork recipes that I've seen recommend cooking pork to an internal temperature of 160° F  (70° C) and that's the temperature I've used in the past even when I knew it would yield dry, tough pork chops.  At 145° F followed by a 5 minute rest, these chops come out perfect – juicy and irresistibly good!
The pork chops – You can use any type of pork chops that you like.  If they are thinner, the bake time will be shorter but if you use a meat thermometer, you'll know when they are done.
Wine or apple juice – It doesn't matter.  If I have some flat white wine in the fridge, I'll use it; otherwise, I use sparkling apple cider which is something I always have.
Bake or Grill – It doesn't matter. In the winter we bake, in the summer we grill.
Suggested sides – Any type of salad works for us – vegetable salad, fruit salad or fruit and veggie salad.  It's all good!
This Brined Pork Loin Chop recipe has been shared with the following blog hops.  Be sure to click on the links to see more delicious recipes.
Weekend Potluck, Freaky Friday, Mix It UP Monday, Hunk of Meat Monday, What's Cooking Wednesday, Whole Food Wednesday, Bake with Bizzy, Mangia Monday, Full Plate Thursday, Made From Scratch Monday, Mom's Test Meal Monday, Gluten-Free Fridays