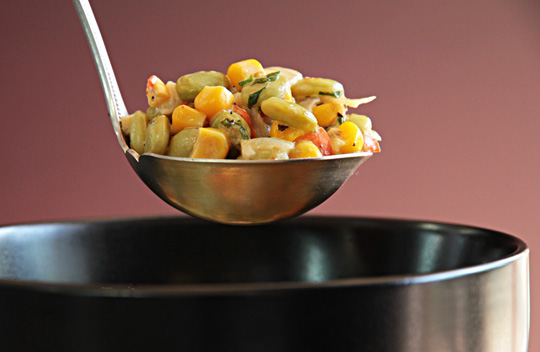 Growing up in the south we called anything with lima beans and corn "succotash". Sometimes we would add squash or any other vegetable in the fridge that needed to be used.  So in following with that practice, here's my succotash recipe with one of my favorite ingredients – green chile.
I usually make green chile succotash during the holidays as a side for roast turkey.  But this green chile succotash is perfect any time of the year. It's great with grilled chicken or baked chicken, as a side with pork, or when topped with a little bacon, a meal on its own. Sometimes I'll make it the entree' for a vegetarian meal and serve it with buttermilk cornbread.  Oh SO good!  In fact, buttermilk cornbread is the perfect accompaniment to this green chile succotash no matter what else you serve.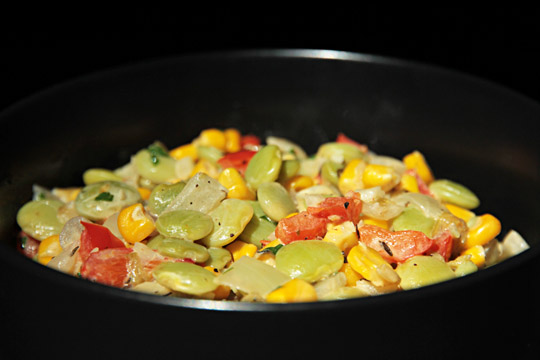 [print_this]
Green Chile Succotash Recipe
Recipe Author:  MJ of MJ's Kitchen
Serves: 4 servings
Prep and Cook time: 30 – 45 minutes
Ingredients
1 Tbsp. olive oil
1 cup onion, chopped
1 cup sweet bell pepper, chopped (red, orange or yellow)
3 large garlic cloves, minced
½ tsp. dried thyme
¼ tsp. salt
½ tsp. pepper
1 cup water
10 ounce package of frozen lima beans (or fresh lima beans)
1 cup frozen corn (or fresh corn cut from husk)
¼ – ½ cup roasted, peeled and chopped green chile (The amount you use depends on heat of chile and how hot you want the succotash.)
¼ cup cream
2 Tbsp. fresh cilantro, chopped
Instructions
Heat oil in Dutch oven over medium-low heat.
Add onion, bell pepper and garlic and sauté for about 5 minutes, stirring occasionally.
Add the thyme, salt, pepper, and water. Bring to boil.
Add lima beans. Bring back to boil. Reduce heat and simmer, covered, for 8 minutes (or half the cooking time recommended on the package), stirring occasionally.
Add corn and green chile. Bring back to a simmer, cover and simmer for 5 minutes, stirring occasionally.
Uncover and add the cream. Simmer low until vegetables are coated with cream and are tender – about 10 minutes.
Stir in cilantro. Taste. Add more salt and pepper if needed.
Serve.
[/print_this]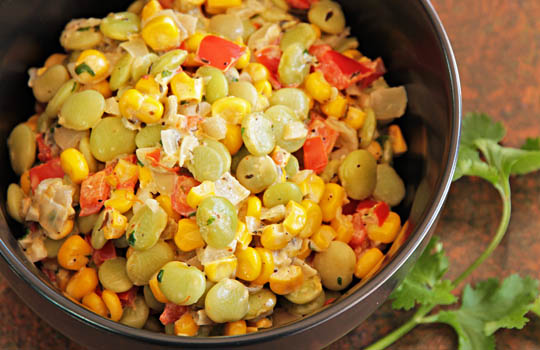 Kitchen Notes
Fresh or frozen – Most of the vegetables in this recipe are frozen. It is the first week of spring here and getting fresh limas or corn is impossible.  But that's o.k.  If I'm going to use frozen vegetables, I don't mind frozen lima beans or corn, or green chile for that matter.  However, I do put my foot down with frozen squash.  I can't think of anything worse than mushy frozen squash. So in this recipe I used organic frozen lima beans and corn, as well as green chile.  Everything else was fresh.  If you use fresh limas or corn, you might have to adjust the cooking time. I would recommend extending the cooking time once the fresh limas after been added.
Green chile –   You could substitute the green chile with a fresh chopped poblano. It might be a little less spicy. If you don't want spicy at all, then just omit the green chile.  This dish is just as tasty without it.
Cream – The cream can be heavy cream, whipping cream or half and half.  I like using heavy cream because it seems to coat the vegetables better. If you don't want to use cream at all, then just leave it out or substitute with coconut, almond or soy milk.
This green chile succotash is a very simple recipe and can be easily modified to your personal tastes. I hope you give it a try and enjoy it!