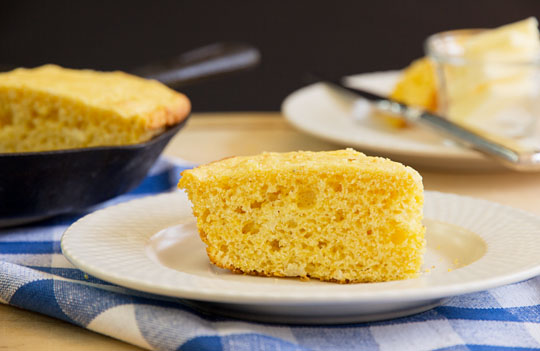 When I posted my Green Chile Succotash recipe I strongly suggested serving it with buttermilk cornbread. So here is my never fail buttermilk cornbread recipe!
I have no idea how many years I've been making this buttermilk cornbread. I don't even know where it came from because I've been making it from memory forever.  Back in the pre-computer days I finally had to write it down in one of my recipe journals so Bobby could make it when I was out of town. It's one of his favorite foods and that goes for me too!  This buttermilk cornbread recipe is fast and easy, and the result is a moist and oh SO delicious cornbread. Enjoy!
Buttermilk Cornbread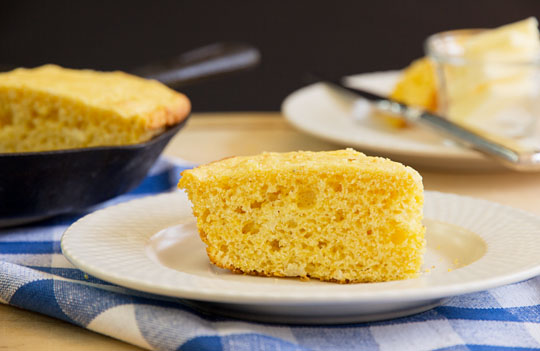 Never Fail Buttermilk Cornbread Recipe
This is my go-to cornbread recipe. It is always delicious and never fails!

"*" See Kitchen Notes for more information or links to special ingredients.
Ingredients
1

tsp.

bacon drippings or vegetable oil

1

cup

fine ground cornmeal

½

cup

AP unbleached flour

1 ½

tsp.

baking powder

¼

tsp.

salt

¼

cup

minced onion

1

egg

1

cup

buttermilk

1 - 2

tsp.

red or green chile powder

(optional)
Instructions
Preheat oven to 400º F (~200º C).

Put the bacon drippings in an 8″ cast iron skillet or other similar sized dish. Place in the oven until the drippings have melted and the skillet is hot (about 5 minutes). While the skillet is heating, make the cornbread batter.

Put all of the dry ingredients and the onion in a bowl and mix.

In another bowl, beat the egg. Add 1 cup buttermilk and mix with the egg.

Add the wet ingredients to the dry ingredients. Stir briefly with a fork, then fold the ingredients together with a spatula until moistened. The stirring/folding should only take about 30 seconds. Batter will be lumpy, but that's o.k. You don't want to over stir so you don't kill the baking powder.


Pour batter into the skillet. Cook in oven for 20 to 25 minutes. You can check to see if it's done by sticking a toothpick in the middle. If it comes out clean, it's done.

Serve with butter or honey or with nothing at all.
Kitchen Notes
Bacon Drippings - Yes, I use bacon drippings. The drippings work great at keeping the cast iron skillet seasoned and the cornbread from sticking.  How's that for a rationalization? 🙂  Of course, if you're vegetarian you could always use vegetable or canola oil.
Buttermilk – If you don't have enough buttermilk, use a mix of buttermilk and milk.
Onion – The onion not only adds flavor, it also adds moisture.  Chop, dice or mince to your preference.
Variations – If you want to jazz it up a bit, add a little crumbled bacon, minced jalapeno, or chopped green chile.
Leftover Cornbread – I have to admit that neither of us are big on warmed up leftover cornbread, so I guess this is where I can say how spoiled we are.  Whenever we want cornbread, even if it's the next night and there is leftover cornbread in the fridge, I'll still make a fresh batch!  However, never fear – the leftovers do not go to waste. Here are a few ideas for leftover cornbread:
Freeze it and use it later on in a cornbread dressing (When the holidays roll around I always have enough cornbread in the freezer for a big batch of cornbread dressing.)
Make this Green Chile Breakfast Bake.
Cut a piece in half and use as the bread for an "egg in a hole"
Make cornbread croutons by cutting leftovers into 1/2″ pieces, toss with a little oil and seasoning, and toast in a hot oven.
Use as a topping for a bowl of beans, soup or chili.
From my friend over at Food Jaunts suggests – crumble it up and use it as a thickener for soups or topping for casseroles.
This recipe was featured on Made With Love Mondays, March, 2012 and Foodie Friday on April, 2012.