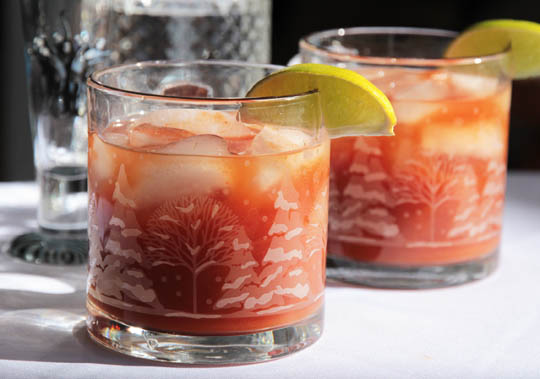 Happy New Year 2012!!!!!!
I hope that everyone is having a wonderful weekend as we move into 2012. We're bringing in the new year with my Bloody Mary which is a pretty traditional holiday drink for us.  I am the "official" Bloody Mary maker in my family, so I've decided to share my simple recipe with all of you. It's about as basic as you can get, but oh so good!

[print_this]
Bloody Mary Recipe
Yields 1 drink
Ingredients
ice
1 jigger (1.5 ounces) of vodka
2 to 3 dashes of Tabasco sauce
4 to 5 drops of Worcestershire Sauce
Dash of celery seed
1/2 to 3/4 cup V8 juice
1 large wedge of lime
Instructions
Fill your glass halfway with ice.  I usually use an old-fashion type glass.
To the glass add the vodka, Tabasco sauce, Worcestershire sauce and V8.  Stir.
Squeeze the lime over the top and give the drink a gentle swirl with a stirring stick or stalk of celery. Drop the lime into the drink.
Enjoy!
[/print_this]
Kitchen Notes
I told you it was simple.  I know I cheat with the V8 juice, but psychologically I think it's better for me than Bloody Mary Mix and I like the texture and taste of the drink better with V8.  How much V8 you use depends on how strong you want the drink.
For a spicier drink, add more Tabasco – of course.
Be careful with the Worcestershire sauce.  Too much can really kill the drink.  I find 4 to 5 drops to be perfect.
See y'all in 2012!