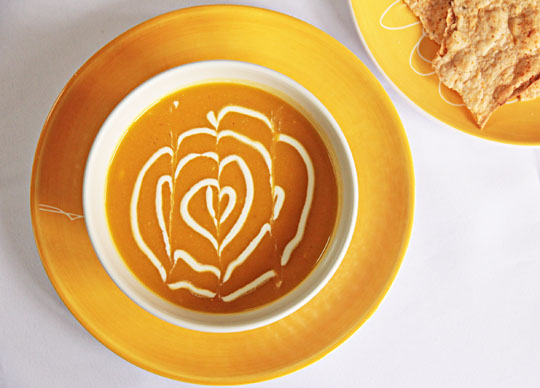 Several things inspired me to make this soup:
A cute little pumpkin sitting on the windowsill looking for a purpose other than just being cute
The local co-op having fresh Chestnuts for half price
It's fall and the weather has turned chilly, so it's soup time!
New plates that friends gave me for my birthday that were perfect for pumpkin soup!
With all that inspiration, how could I not make it?!
 Roasted Pumpkin and Chestnut Soup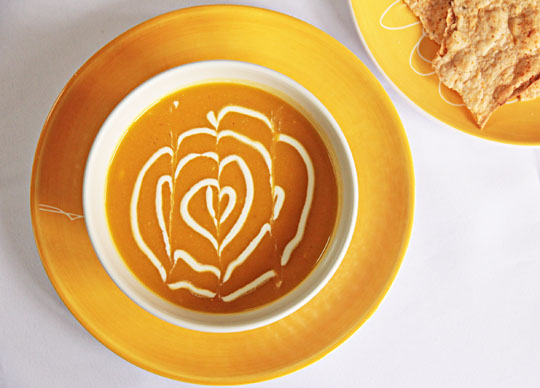 Roasted Pumpkin and Chestnut Soup Recipe
A highly seasonal soup made with the season's pumpkins and chestnuts. The Total Time below includes making the pumpkin puree' and roasting the chestnut, both of which could be done a day ahead.

"*" See Kitchen Notes for more information or links to special ingredients.
Course:
Appetizer, Soup, Vegetarian
Ingredients
3

cups

roasted pumpkin puree'

1

Tbsp.

olive oil*

1

garlic clove,

minced*

1

medium sweet onion,

coarsely chopped

2

carrots (about 1 cup),

coarsely chopped

3/4

cup

roasted chestnuts*,

chopped

4 to 5

cups

water, vegetable or chicken broth or a mix of broth and water

Juice from half a lemon

¼

tsp.

salt

Cracked white pepper

*Replace both with 1 Tbsp. garlic infused olive oil
Topping (See Kitchen Notes for vegan option)
1/2

cup

plain Greek yogurt

1.5

Tbsp.

whipping cream

2

tsp.

Maple syrup
Instructions
Roasting the Pumpkin
Cut a small pumpkin in half. Drizzle olive oil over the pumpkin meat and sprinkle with black pepper. Roast, cut side up in a casserole dish at 400° F for 45 minutes or until a fork inserted into the pulp goes in easily. (I like roasted cut side up to get the browned edges.) Remove from the oven and let cool enough to handle. Using a spoon, remove the seeds and strings. Discard. Scoop the pulp from the skin into a bowl. Puree' with an immersion blender until smooth. If you don't have an immersion blender, you can use a regular blender.
Making the soup
Heat olive oil in large pot over medium heat. Add the onion and saute' 2 minutes.

Add the carrots and cook 5 minutes, stirring occasionally.

Add the garlic and chestnuts. Cook another 2 minutes.

Add the water/broth, salt, lemon juice, and pumpkin pulp. Bring to a boil then reduce to a simmer and cook 30 minutes.

Let cool down a little. puree' with an immersion blender or regular blender. You may need to add more water to get the consistency you like in a pureed soup.

Finish with a generous amount of fresh crack white pepper. Taste and add more salt if needed.

Ladle soup into bowls and top with the maple yogurt topping.

Whisk together the yogurt, cream and maple syrup.

Transfer into a small plastic sandwich bag (or pastry bag if you have one).

Clip off a tiny bit of on corner of the bag.

Squeeze the topping onto the top of the soup in the desired pattern. (This was fun, but I need more practice.)
Serve with Red Chile Pepper Crackers (recipe below).
Kitchen Notes
Division of tasks - On the weekend I roasted the pumpkin and chestnuts. On Tuesday I made the soup which made for a very quick dish on Tuesday.
To get the 3/4 cup of nut meat, purchase at least a pound of fresh chestnuts. If you can't find fresh chestnuts, you might be able to find them at a specialty store or order on-line.
Vegan – The soup itself is vegan, but the topping is not.  To keep it vegan, you could either just eliminate the cream based topping and top with crushed herbs such as sage or dill weed, or top with minced roasted chestnuts.  Or you could use soy, almond or coconut based yogurt and cream.
Red Chile Pepper Crackers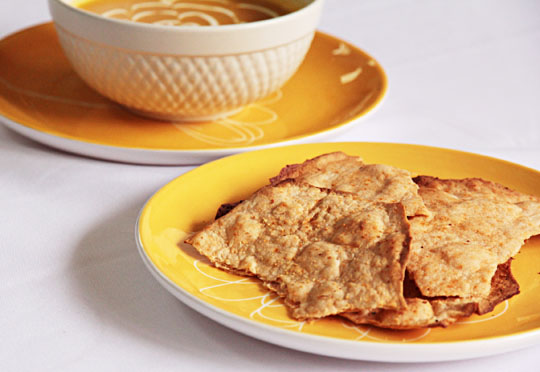 A few days before making this soup I found a Rosemary Croccantini Flatbread Cracker recipe over at Fifteen Spatulas.  I had been wanting to make these crackers and this soup offered the perfect opportunity.   The soup needed something crispy, but then it also screamed "spicy".  So I made these wonderful crackers, replacing the rosemary with 1/2 tsp. red chile powder (medium). Before putting them in the oven, I sprinkled the dough with garlic powder instead of salt and pepper.  They were excellent and a great complement to this soup.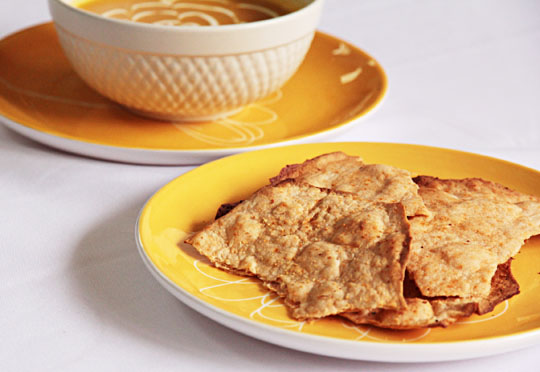 Red Chile Crackers Recipe
A spicy, crispy crackers that goes great with soups and sweet jams.

Ingredients
1.5

cups

all purpose flour

1

tsp

salt

1/2

tsp

sugar

2

tbsp

olive oil

1/2

cup

cold water

½

tsp.

red chile powder,

medium to hot

garlic powder
Instructions
Preheat the oven to 450 degrees F. If you have a pizza stone, place the stone in the oven to heat.

Combine the flour, salt and sugar in a large bowl. Whisk to combine.

Drizzle in the oil and continue to whisk.

Slowly add the water, mixing with a spatula until the dough starts to come together into a ball.

Dump the dough onto a lightly flour coated surface and knead for about 10 seconds.

Add the chile powder and knead into the dough. Continue to knead to for about another minute. Your dough should be a little tacky, but not sticky. If the dough is too sticky, add flour at about 1 Tbsp. at a time until you get the right texture.

Divide the dough into four pieces and cover with a towel. Let the dough rest for 10 minutes so the gluten can relax.

Place a piece of dough on a piece of parchment paper sprinkled with garlic powder. Roll as thin as possible using a rolling pin.

Spray the rolled dough with water (this helps it get crispy). Sprinkle with more garlic powder if desired.

Transfer dough to the pizza stone or a sheet pan and bake for about 3 minutes on each side. Keep an eye on them because differences in thicknesses can alter the time. Remove when both sides are crispy brown. The crackers will become more crispy as they cool.

Repeat with the remaining pieces of dough.

Once cool, break into pieces and enjoy!