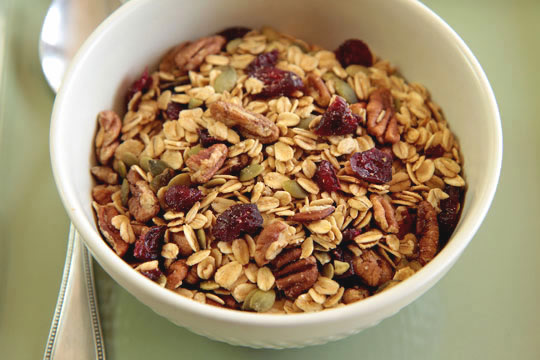 When I started making my own granola a couple of years ago this was the first granola I made.  It came together because it was late in the year and I had a freezer full of pecans and huge bag of craisins.  I have to admit that I haven't made another granola that I enjoy as much as this one.
[print_this]
Cranberry Pecan Granola (aka Thanksgiving Granola) Recipe
Recipe Author:  MJ of MJ's Kitchen
Yields: about 5 cups
Prep and Cook time: 45 minutes
Ingredients
3 cups rolled oats
1 ½ cup chopped pecans (large pieces)
½ cup pumpkin seeds (pepitas)
¼ cup maple syrup
1 Tbsp. packed brown sugar
½ tsp. vanilla extract
3 Tbsp. canola or vegetable oil
½ tsp. salt
1 cup dried cranberries (I use craisins)
Instructions
Preheat oven to 325° F (165° C).
In a large bowl mix together the oats, pecans, and pumpkin seeds.
In a smaller bowl whisk together the remaining ingredients except for the cranberries.
Using a spatula combine the wet and dry ingredients. Combine thoroughly to coat all of the dry ingredients with the wet ingredients.
Spread evenly in large sheet pan with 1-inch sides.
Bake for 20 minutes. Remove from oven and stir with a spatula. Return to the oven for another 20 minutes. Remove and stir in the cranberries. (I pour the granola back into the original mixing bowl to mix in the cranberries. It prevents the granola from going everywhere.)
Let cool, stirring occasionally. Store in an airtight container.
[/print_this]
Kitchen Notes
As with any granola, you can add or substitute as much as you like; however, I like the simplicity of this granola so I've never really altered it.
It's not as sweet as most granola, so if you like your granola sweet, you can increase the brown sugar to 2 Tbsp. or, for an even sweeter granola, increase the maple syrup to 1/2 cup.
This Cranberry Pecan Granola recipe has been linked to the Made From Scratch Tuesday, Gluten Free Wednesday,  Whole Food Wednesday, Breakfast Ideas Monday Blog Hops. Click on the links and check out all of the great recipes.
If you like this, you might also like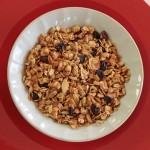 Walnut and Raisin (or Date) Granola