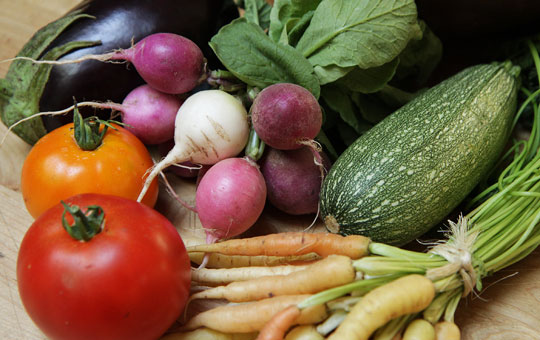 Living in the high desert during a drought can make having large gardens a challenge.  Fortunately, we still have many local farmers that have managed to survive, and – luckily for me – they bring their produce to the growers' market for sell, no matter how meager the crop might be.  Since it's just Bobby and me, it doesn't take much to stock the crispers for a week.  When I need to, I supplement the market with what I find at the co-op and "a little" from my own garden (if you can call it that).  So what you see is last week's bounty.  Not in the picture are about 8 more tomatoes.
So what did I do with this produce from the growers' market?

The tomatoes provided us with
a nice salad of sliced tomatoes, strawberries, fresh basil (from my garden), and feta cheese, as well as
a pasta dish of linguine, chopped fresh tomatoes, lots of fresh basil, a little onion and garlic (got to have that!), and some cheese, topped off with a touch of olive oil and red wine vinegar.
The eggplant was used to make the Baba-ghanoush from What's Cookin, Chicago?  YUMMY!
Those sweet little carrots were sauteed in a touch of butter with salt and pepper.  We could have eaten them raw – they were SO good – but they were just as delicious cooked a bit.
We're still working on the radishes.  I love radishes but Bobby's not too crazy about them so I've been using them sparingly in salads.  No complaints yet!  I was tempted to make a radish ice cream – I know – a WHAT?  I saw it done on Iron Chef America and the judges loved it, so why not?  Maybe the next batch of radishes.
I almost forgot the squash.  I love these Magda Hybrids.  They are a little sweeter and nuttier than other summer squashes and have become our favorite.  So I sliced this one up with the ONE yellow squash from my little garden, added some chopped, fresh rosemary, truffle sea salt and pepper.  It was wonderful if I do say so myself.
Well, it's time to head back to the market.  I wonder what they'll have this week.