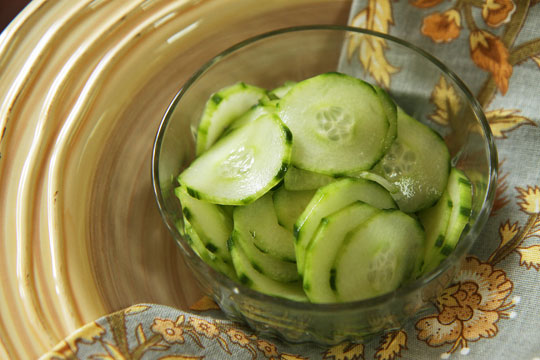 While my mother canned some of the best sweet pickles I've ever had, she also made these little batches of quick pickled cucumbers as a condiment for the dinner table or as an afternoon snack.  It wasn't a dish that I helped with (because it's so easy!), so I never learned how she made them, but I certainly remember how they tasted.  I knew the marinade had vinegar and sugar, but what type of vinegar, what other ingredients and at what proportions – I had no idea.  So many years ago (pre-internet, if you can imagine such days ever existed), I started playing around, trying to get the marinade just right for that deja vu moment. After a few batches, I had it.  I'm not sure if it's my mom's quick pickled cucumber recipe, but it sure reminds me of hers.

Of course, now that I do have internet, I find hundreds of recipes for these quick pickled cucumbers. Mine is a little different but one I'm going to stick with because I like it.  If you haven't made these quick pickled cucumbers, you should.  They are SO easy and SO good!
Quick Pickled Cucumbers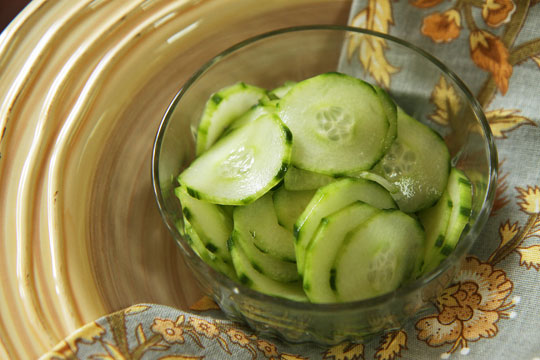 Quick Pickled Cucumbers Recipe
A quick and easy pickled cucumber that makes a fabulous condiments, pickle for sandwiches or used on a salad.
After combining the ingredients, pickles will need at least 4 hours to marinate.
"*" See Kitchen Notes for more information or links to special ingredients.
Course:
Condiments, Side Dish, Vegetarian
Ingredients
1/2

large seedless cucumber or 1 medium cucumber,

seeds removed (if not organic, I usually peel or partially peel)

1/4

cup

rice wine vinegar

2

tsp.

sugar

1/8

tsp.

sea salt

1

tsp.

unrefined peanut oil
Instructions
Thinly slice the cucumber. Place in a large self-sealing plastic bag.

Combine the sugar, vinegar and salt in a microwave safe container and heat in the microwave on high for 20 seconds. Stir until the sugar is dissolved. Add the oil and whisk.

Pour the vinegar mixture into the bag with the cucumber and seal. Shake to coat all of the cucumber slices with the vinegar.

Press as much air from the bag as possible and seal tightly. Lay the bag on the counter and press it flat so that there is only one to two layers of cucumber slices. Lay the bag flat on a shelf in the refrigerator.

Let marinate at least 4 hours, turning halfway through. You can also marinate overnight, turning the bag in the morning.

Pickles stay fresh for a couple of days in the refrigerator.

Kitchen Notes
For Spicy Pickled Cucumbers add a touch of red pepper flakes.
One of the things that I love most about these "pickles" is that the taste and the texture change the longer they marinate.  When I want a crispier pickle with less sweet, I use after 4 hours (like the ones in the picture). For a softer and sweeter pickle, I marinate overnight.  You don't have to use them all at once either.  They'll last for 2 to 3 days in the refrigerator so you can use them as you need them.
These little "pickles"  are fabulous in salads, sandwiches, as a snack, in relish trays, or as a side for pot stickers and other dishes.  One of my favorite uses is in this Mango and Jicama Salad.