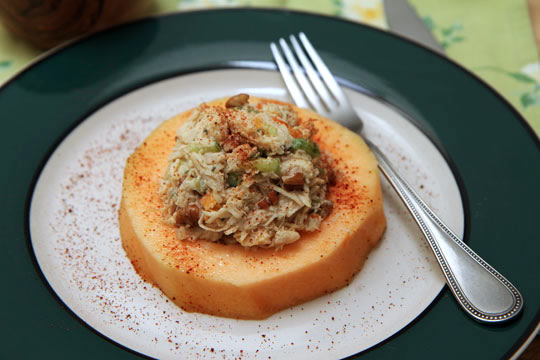 It's hot, it's dry and all we feel like eating is something cool and refreshing like this chicken cantaloupe salad. There's nothing more refreshing than cold, sweet melon.  My favorite way to eat cantaloupe is to get it really cold, cut the melon in half, scoop out the seeds, add a touch of salt, and eat it right out of the rind.  However, there are so many other ways to eat cantaloupe.

One of my favorite cantaloupe dishes is to make a salad with chicken, turkey, crab or crawfish (aka crayfish, crawdads), and use a thick slice of cantaloupe as the bowl. This is my summer chicken salad recipe served in a cantaloupe ring. It's best if the cantaloupe is really cold, but the salad can be cold to room temperature.
[print_this]
Chicken Cantaloupe Salad Recipe
Recipe Author:  MJ of MJ's Kitchen
Yield: 4
Prep Time: 20 minutes
Ingredients
2 cups cooked chicken meat, shredded (2 cans of white meat chicken or 2 cups cooked leftover chicken)
1 Tbsp. onion, minced
½ cup Jicama or cucumber, finely chopped
¼ cup sweet bell pepper, finely chopped
1 ½ Tbsp. chopped pecans, lightly toasted
1 Tbsp. crystallized ginger, minced
1 tsp. fresh basil, minced
1 tsp. fresh mint, minced
4 – ½" thick rounds of cantaloupe, seeds and rinds removed
Sea salt
Paprika
Dressing
2 Tbsp. mayonnaise
1 Tbsp. orange juice concentrate or 1 ½ Tbsp. fresh squeezed orange juice
2 tsp. Dijon mustard
1 ½ tsp. rice vinegar
1 tsp. vinegar from a jar of pickled jalapeno (optional)
Instructions
In a small bowl, whisk together all the ingredients for the dressing. Set aside.
In a larger bowl, mix together the top 8 ingredients (everything but the cantaloupe, sea salt, and paprika).
Add the dressing and toss to combine. Taste. Add salt if needed.
To prepare the cantaloupe slices, cut a whole cantaloupe in half crosswise. Cut two 1/2" pieces from the open end of each half. Remove the seeds and rind.
Place one slice of cantaloupe on each of 4 plates. Lightly salt each ring with sea salt.
Divide the salad between the 4 plates by filling the hole in the center of each piece of cantaloupe and creating a round of salad on top. Sprinkle with paprika and serve.
[/print_this]
Kitchen Notes
Not much to add about this salad. It's just a simple little salad that anyone can make. As with any recipe, the ingredients are flexible.
I've made it with both jicama and cucumber and loved them both.
Leftover roast chicken works GREAT and adds another dimension that canned chicken can't.
If you don't have bell pepper, use celery.
Walnuts or almonds can be used in place of the pecans.
The herbs – mint, basil, cilantro or any combination of
Just don't omit the crystallized ginger. It's such a great complement to the chicken and the cantaloupe, and makes this salad a little different from a normal chicken salad.  I hope you enjoy it as much as we do!
This chicken cantaloupe salad has been shared with the following blog hops.  Be sure to click on the links for more wonderful recipes!
Summer Salad Sundays, Slightly Indulgent Tuesdays, Fat Tuesday, Whole Foods Wednesday, Frugal Food Thursday, Keep It Real Thursdays, Weekend Potluck 
This Chicken Cantaloupe Salad was featured on Summer Salad Sundays, July 2012.