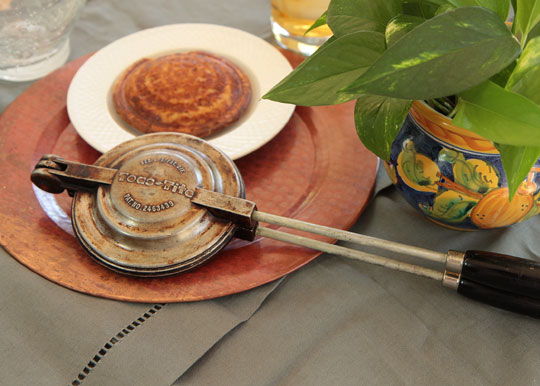 Toas-Tite Sandwiches
So who remembers the Toas-Tite sandwich? Who among you grew up eating these little jewels?  I did and I still love them. They are so much fun to eat and just as much fun to "assemble" and cook. You can put anything you want in them – which is something my family did quite well. Here are just a few of the concoctions that we created:
Green chile, cheese and onion (shown below)
Bologna and cheese, salami and cheese, just cheese
Spam and pickles (I liked using sweet pickles)
Scrambled eggs and lots of butter, salt and pepper
Cinnamon, butter and sugar (my all time favorite)
Apple pie – apples, cinnamon, butter, sugar and cheese (another of my favorites)
Any leftovers we could find in the fridge – this is where we were the most creative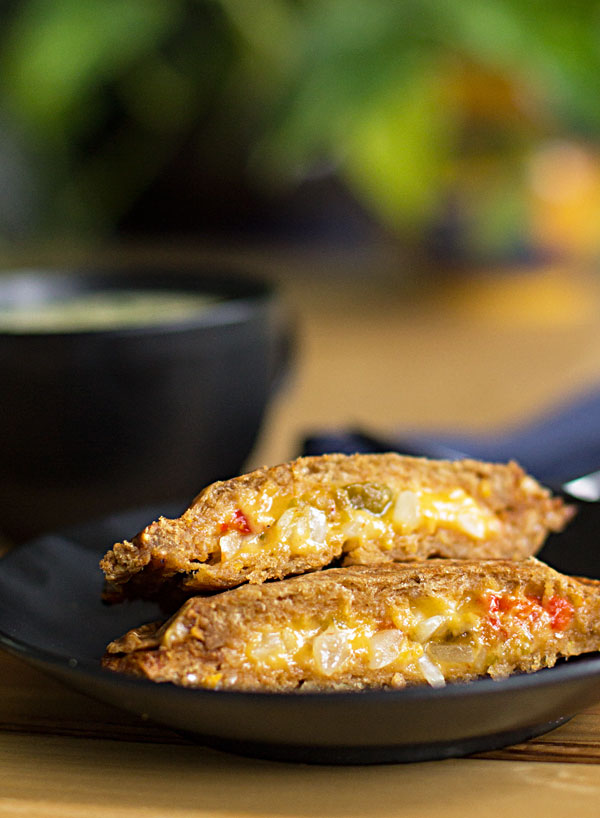 My oldest sister loved leftover pot roast, mustard, tomato, cheese, onions and lots of black pepper. Then there was the leftover meatloaf – my brother's favorite and his favorite way to eat Mother's meatloaf. My mother loved a cow's tongue sandwich – her most favorite sandwich no matter which way you fixed it. And then of course – the leftover Thanksgiving sandwich:  turkey, cranberry sauce, and dressing.
No matter what you put in it, the outcome is always the same – a yummy sandwich with hot and steamy insides sealed with really crispy edges. You have to be careful and let the sandwich cool a bit before biting into it or you will burn your mouth.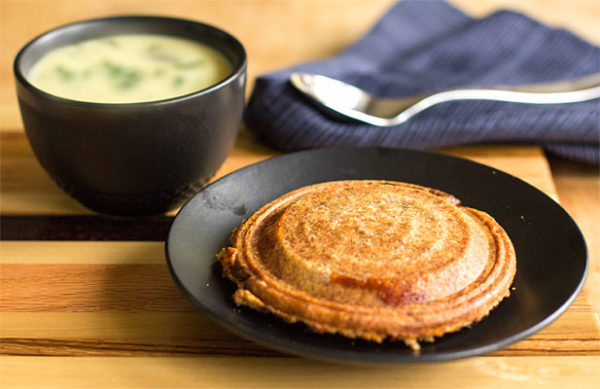 When putting this post together I came across a fun website that you have to check out – We Love Toas-Tite Recipes.  It has more information than you'll ever want to know about Toas-Tites, plus the website owners have a great collection!  Be sure to read the comments for another reader's truly awesome collection.
So what did I learn in my research about my little Toas-Tite?  Since it has the patent number on it, it's post-patent – obviously.  Earlier versions said "Patent Pending". The Toas-Tite patent was approved in 1949 and that's when these things took off. They were very popular with campers and Boy Scouts. In fact, there was even a Boy Scouts version.  A lot of variations have been developed as you'll see when you check out the above link.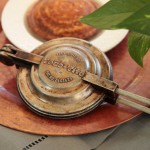 The Toas-Tite in the picture is my family's, the one I grew up with, which means  this little gadget was making sandwiches back in the 50's! I acquired it a few years ago when I found it buried in a kitchen drawer at my mother's house. I knew I had to have it so I snagged it.  She hadn't used it in years so she was happy to know that it was going back into production which is exactly what happened. Ever since I brought it home, I've been making these Toas-Tite sandwiches. The sandwiches I make today are a little healthier than the ones 50 years ago. I don't use square white bread anymore which actually works best with the shape and size, and I try to create fillings that are better for me than butter and sugar, bologna and cheese. It still works great with leftovers and there are so many more fillings that are yet to be discovered. The possibilities are endless!  Any suggestions?
This ToasTite post has been shared with the following blog hops.  Be sure to click on the links to see more tasty recipes.  Hearth and Soul Blog Hop, Katherine Martinelli's Family Recipes