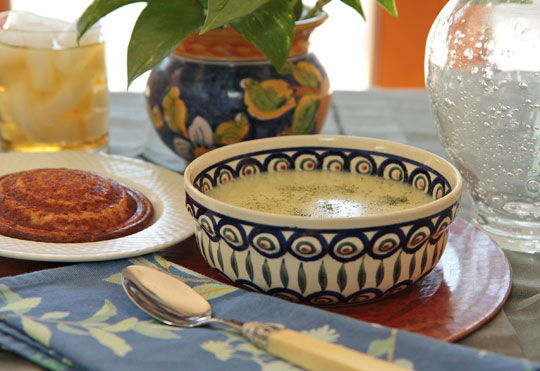 For several years I grew an abundance of cucumbers, so many that we couldn't keep up with them. Even after giving cucumbers away, we still had more than enough for the two of us. Therefore, I had to come up with creative ways to use the extras, and the ones that got away – the ones that got hidden and grew too big for salads and sandwiches. One of my solutions was cold cucumber soup.

Cold soup is perfect for hot summer months and it's a great way to use garden surplus. However, my problem with cold cumber soup is that I had never had one I liked. Even though I love yogurt and sour cream, I just don't care for cucumber soups that use a lot of yogurt or sour cream (or buttermilk) as the base. So I started experimenting with something completely different and here is the result. It still uses a little bit of yogurt, but the base is more of a broth base. This soup has been one of our summer staples for years and it's even better served with a green chile cheese toas-tite or grilled cheese.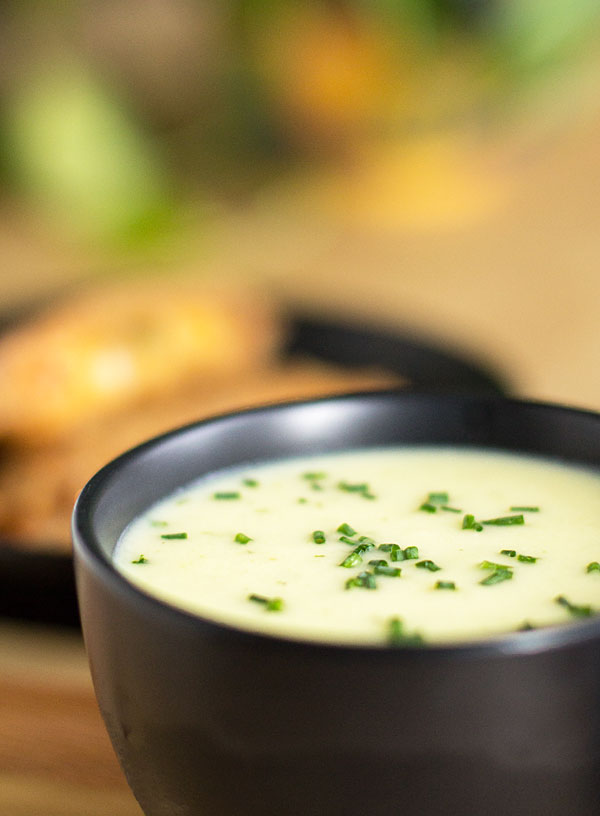 [print_this]
Cold Cucumber Soup Recipe
Recipe Author:  MJ of MJ's Kitchen
Makes about 1.5 to 2 quarts
Prep and cooking time: 1 hour
Cooling time: about 30 minutes + refrigerate overnight
Ingredients
1 Tbsp. olive oil
½ Tbsp. butter
1 cup sweet onion or just onion, coarsely chopped
~6 cups cucumber* (~2 pounds), peeled, coarsely chopped
4 cups vegetable or chicken broth* (homemade is best)
1 tsp. fresh dill weed, chopped, or 1/2 tsp. dried dill weed
Salt and cracked white pepper, to taste
4 – 8 ounces Plain Greek yogurt (to taste)*
Topping* – chives or fresh mint, dill or basil, chopped
*See Kitchen Notes for substitutions and further information
Instructions
Heat oil and butter in a large Dutch oven over medium heat until butter is melted.
Add onions. Turn down heat to medium-low and slowly sweat the onions until translucent.
Add the cucumber. If you are using dried dill weed, add it now. Increase heat to medium and cook for 3 minutes, stirring frequently.
Add the broth. Bring to a boil over high heat. Reduce heat for a simmer and cook cucumber for 15 minutes or until soft.
Remove from heat and let cool for about 15 minutes.
Using a blender, puree the soup. An immersion blender works great and allows you to blend the soup in the pot you cooked it in.
Whisk in the yogurt.
If the soup is too thick, add a little more water for the desired thickness. Stir in the fresh dill (if you are using it).
Season to taste with salt and pepper.  I use a generous amount of cracked white pepper.
Chill overnight.
About 30 minutes before serving, remove from the refrigerator.
Ladle into small soup bowls. Top with chopped fresh chives, basil, mint or more dill – whatever your heart desires.

Kitchen Notes
The cucumbers
You can use seedless cucumbers or slicing cucumbers. I always peel and, if the seeds are large, I'll remove the seeds. This is a great recipe for the overgrown cucumbers that you find hidden in the garden. Just taste first to make sure they haven't become bitter.
The broth
I've never made this with anything but chicken broth, but I can't imagine that vegetable broth wouldn't be just as delicious. If you make it with vegetable broth, please let me know how it turns out.  You can use chicken stock as long as it is basically fat-free because this is a cold soup.
The yogurt
Do not use low fat or fat free yogurt! I prefer a good quality Greek style yogurt or goats milk yogurt for its creaminess or a cream top yogurt.
The finishing herb
This is a mood thing. Are you in the mood for more dill, some mint, basil or what? Since I usually have 3 to 4 bowls of this soup every time I make it, I mix up the herbs. One day I'll have a minty soup and the next day, I'll go for something more savory and use basil. Thai basil makes it quite interesting. For something even more interesting, try some fresh lemon thyme (one of my favorite herbs).
Vegetarian and Vegan version
Omit the butter, use vegetable broth and substitute the yogurt with soy, almond or rice milk.  I've used soy or almond milk several times when I didn't have yogurt and they both work great.
[/print_this]
If you are curious about the brown little flying saucer in the picture, it's a Toas-Tite sandwich, and for this soup, it's a green chile cheese toas-tite sandwich.
If you enjoyed this cold cucumber soup, here are some more cold soups you might enjoy:
Cold Curried Green Vegetable Soup
Cold Asparagus and Garlic Soup
Cold Cantaloupe and Cucumber Soup
Chilled Three Onion and Green Chile Soup
This cold cucumber soup recipe has been shared with the following blog hops.  Be sure to click on the links to see more amazing recipes.  Sunday Night Soup Night, My Meatless Monday, Just Another Meatless Monday, Whole Foods Wednesday, Made with Love Mondays, Weekend Potluck, Made From Scratch Monday, Slightly Indulgent Tuesday, Showcase Your Talent Thursday