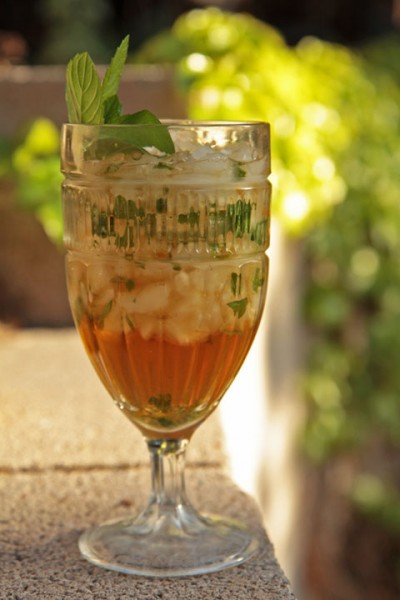 Today is the Kentucky Derby so I felt that a posting of my Mint Julep recipe was more than appropriate.  To be honest, when we were drinking Mint Juleps last night, it was not because of the Derby.  We had a beautiful afternoon here in New Mexico during which we planted flowers in the pots on the front porch. To relax before a supper of Shrimp and Andouille Jambalaya (recipe coming soon), we made Mint Juleps.
It was not until I was making my second Julep that we realized – HEY – tomorrow is the Kentucky Derby!  We should post my Mint Julep recipe!   Since Bobby was already well into his second one, he was more than happy to grab the camera and take a shot.

So here's my Mint Julep recipe that we have enjoyed for years.  It works great when you're only serving one or two people and having no more than two drinks (or in my case – one).  After that, it might make more sense to make a simple syrup with fresh mint ahead of time.
[print_this]
Mint Julep Recipe
Ingredients
5 t o 7 large fresh mint leaves
generous 1/2 tsp. sugar
1 generous shot of good bourbon* (we use Maker's Mark)
Cognac (optional)
crushed iced
*a shot glass is normally 1.5 ounces or 43 milliliters
Instructions
Tear the mint leaves and crush with the sugar in the bottom of a glass.  I use a goblet and the backside of a long teaspoon as the crushing mechanism.
To the mint and sugar, add the bourbon.  Stir until the sugar has dissolved.
Add crushed ice and stir.  Continue to stir until a frost starts to form on the outside of the glass.  If you need to add more ice, feel free to do so.  (The one in the picture could have used more ice, but as I mentioned, I had already had one julep.)
Top the julep with a "touch" of cognac (if desired) and a sprig of mint.
[/print_this]
Kitchen Notes
Growing up in Louisiana, I definitely knew what a Mint Julep was, but honestly, I didn't start drinking them until I moved to New Mexico – go figure.  And yes – I know that Mint Juleps are suppose to be served in a frosted silver glass, so forgive me – I don't have any silver glasses, so I use what I have.  I like using a goblet because it makes crushing the mint with the sugar much easier.
There are a lot of interesting stories surrounding the Mint Julep and The Kentucky Derby, since it is the official drink of the Derby.  However, what I find most interesting is the fact that the Julep  is more than a century old and still going strong. Here's to Mint Juleps!