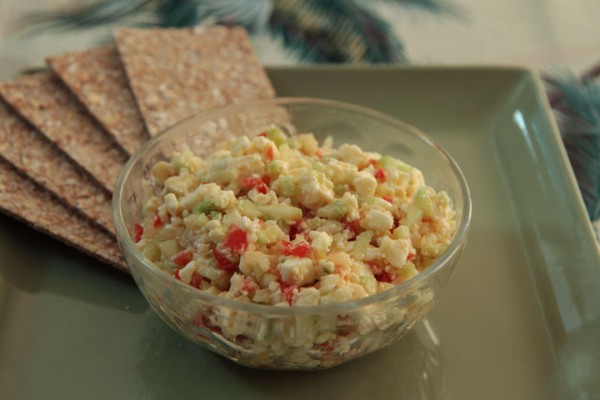 Back in the 80's there was a wonderful little Mediterranean restaurant in our neighborhood that served a feta cheese dip we absolutely loved.  When the restaurant shut down, I was determined to recreate the dip so we could have it any time we wanted it.  It took a few tries but I was finally successful.  This dip with feta and cucumber makes a great appetizer, a party dip, or an afternoon snack.
[print_this]
Mediterranean Feta Dip Recipe
Recipe Author:  MJ of MJ's Kitchen
Prep time: ~20 minutes
Yields ~ 2 cups
Ingredients
2 Tbsp. mild olive oil
½ tsp. toasted sesame seed oil
1 Tbsp. lemon juice
½ medium cucumber, peeled, seeded, minced
1 medium tomato, seeded, minced, drained
2 thin slices onion, minced
1 small garlic clove, minced
1 ½ tsp. fresh mint, minced
3 – 4 dashes Tabasco sauce
½ pound Feta cheese, crumbled
Serve with pita bread or any type of flatbread, or your favorite cracker.
Instructions
In a small bowl whisk together the oils and lemon juice.
Combine all ingredients except Feta, in a bowl. Toss to coat the vegetables with the oil and lemon juice. Add crumbled feta and gently stir to incorporate all of the ingredients.
Chill at least 3 hours before serving.
[/print_this]
Kitchen Notes
You can use just about any type of feta for this dip.  However, in choosing, think about the texture of the feta because it will determine the overall texture of the dip.  I prefer a drier feta that crumbles easily rather than a soft feta that's hard to crumble.  Adding the feta as the last step prevents it from being overworked causing the dip to become too creamy or mushy.
Be sure to let the dip chill in the refrigerator for a few hours or overnight so the flavors merge.  It makes a HUGE difference.  Remove the dip from the fridge about 30 minutes before serving.  Give it a little stir and transfer to a serving dish.
As far as what to serve it with – for years we served it with warm pita wedges because it's a Mediterranean dip after all and that's the way the restaurant served it.  However, through the many years of eating this, we've also used flatbread crackers, melba and pita chips – pretty much anything that's in the pantry at the time.  They all work well,  just a different texture from the pita – a crispy bite rather than a soft bite.
This feta and cucumber dip recipe has been shared with the following blog hop.  Please click on the link to see more delicious recipes.  Freaky Friday, Gluten-Free Wednesday