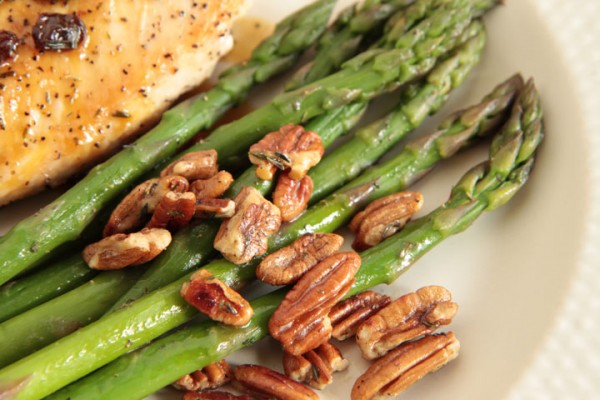 There are many ways to cook asparagus, but as with most fresh vegetables, simple is best.  In this recipe I combine one of my favorite vegetables – the asparagus – with my favorite nut – the pecan – and add just a touch of seasoning.  Simple and oh so tasty.
Growing up, the asparagus that was served at our table came from a can.  It was one of the few vegetables we didn't grow or get from granddaddy's farm.  When the parents wanted asparagus (us kids certainly did ask for it) they served canned asparagus and topped it with a dollop of mayonnaise.  I know to some of you the addition of mayo might sound pretty gross, but believe me – it's the only way to make canned asparagus palatable.  It doesn't do anything for the texture (it's just soft on soft), but it does help to mute the flavor of mushy, canned asparagus – if you like mayo of course.
Soon after we moved to New Mexico our neighbors across the street had us over for supper.  I don't remember everything we were served, but I do remember the asparagus.  It was like eating something for the very first time.  In fact, it was eating something for the very first time – fresh asparagus.  What a difference!  The difference between canned and fresh asparagus goes way beyond texture.  The appearance, the smell and the taste are all different.  Today, canned asparagus is just a bad memory and fresh asparagus is a staple in this kitchen.  You'll see plenty more recipes with fresh asparagus in future posts.  I hope you enjoy this one.
[print_this]
Asparagus with Pecans Recipe
Recipe Author:  MJ of MJ's Kitchen
Serves:  2
Prep and Cook time:  20 minutes
Ingredients
½ pound asparagus, tough ends removed
½ cup water (or apple juice or apple cider for a sweeter bite)
½ Tbsp. butter
½ cup pecans, cut in half vertically
¼ tsp. dried thyme or 1 tsp. fresh thyme
Sea salt and cracked pepper
Instructions
Lightly toast the pecans in a skillet over medium-low heat. Remove to a small bowl and set aside.
Bring the water to a boil in the skillet. Add the asparagus, cover, cook 2 minutes or until crisp tender. When done, drain.
In the same skillet melt the butter over medium-low heat. (Be sure to dry out the skillet before adding the butter).
When the foam subsides, add the pecans, thyme, salt and pepper.  Cook 1 minutes.  Add the asparagus. Toss all ingredients together and heat through just before serving.
[/print_this]
Kitchen Notes
Cooking the asparagus is the hardest part of this recipe and that's actually pretty easy.  We like our asparagus crisp tender so for young asparagus stalks it takes "at most" 2 minutes.  For thicker stalks it might take a minute longer.  Just stick a fork in a stalk to test to see if it's done to your likeness. You could also steam the asparagus, but once again, be careful not to overcook it.  If you don't plan to serve the asparagus right away, run the cooked asparagus under cold water to stop the cooking process.  Do steps 3 and 4 above just before serving.
If you like this asparagus recipe you should enjoy these other asparagus recipes.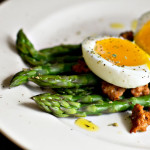 Asparagus with Chorizo and a Soft-Boiled Egg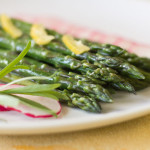 Asparagus with dressing of garlic and preserved lemons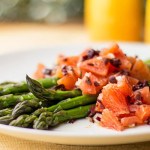 Asparagus with Orange and Kalamata Olives